FAQ
FAQ for LCD video wall products
1. What is LCD video wall?
LCD video wall is a large display wall made of multiple LCD screens that are mainly used in video surveillance, AV projects and many other application fields. The largest combination or configuration can be up to 15x15 unit screens. It allows you display one image on each screen or across the wall (multiple screens) through a video splitter. Much more complicated devices like matrix switcher, video multiplexer, etc…, will be applied when you need to display different source images on each screen or combine several different sources into one source and display the image on one screen. LCD video wall is also called TV wall.
2. What is LCD?
Thin film transistor liquid crystal display (TFT-LCD) is a variant of liquid crystal display (LCD) which uses thin-film transistor (TFT) technology to improve image quality (e.g., addressability, contrast). TFT LCD is one type of Active matrix LCD, though all LCD-screens are based on matrix addressing. TFT LCDs are used in television sets, computer monitors, mobile phones, handheld video game systems, personal digital assistants, navigation systems, projectors, etc.
3. How does LCD work?
The Structure of liquid crystal display is as below.
1— vertical polarization filter, 2.4—glass with electrodes, 3—liquid crystals, 5—horizontal polarization filter, 6—reflector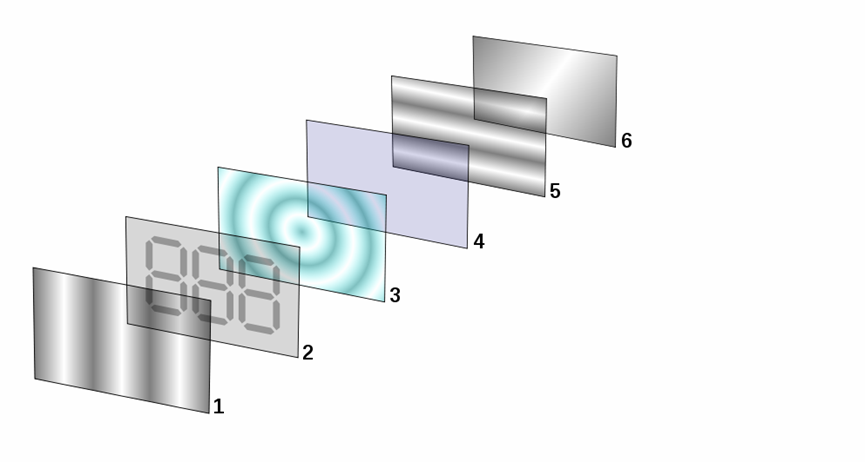 Structure of liquid crystal display
A liquid crystal layer (typically 10 μm /micro-meter thick) sits between two polarizers that are crossed (oriented at 90° to one another). The liquid crystal layer is formed by 2 glass with electrodes and the liquid crystal itself. The liquid crystal is poured and fills out the space between the 2 glass with electrodes. There are 2 polarization filters sitting in front of and behind the liquid crystal layer, which are crossed each other (oriented at 90° to one another).
When the LCD is powered, the molecular in the liquid crystal layer will be twisted at 90°, and light is reflected and then passes through the second polarization filter and displays on the screen.
When an electric field is applied to the liquid crystal layer by increasing voltage, the long molecular axes tend to align parallel to the electric field thus gradually untwisting in the center of the liquid crystal layer. In this state, the liquid crystal molecules do not re-orient light, so the light polarized at the first polarizer is absorbed and blocked at the second polarizer, and the LCD loses transparency with increasing voltage. The light will be not able to pass through the second polarization filter. In this way, the electric field can be used to make a pixel switch between transparent or opaque on command.
The light is supplied by the backlight at the back of the LCD.
4. What is an LED backlight LCD?
An LED-backlit LCD is a flat panel display that uses LED backlighting instead of the cold cathode fluorescent (CCFL) backlighting used in most other LCDs. LED backlit LCD TVs or monitors use the same TFT LCD technologies as CCFL backlit LCD TVs or monitors. Picture quality is primarily based on TFT LCD technology independent of backlight type. While not an LED display, a television using this display is called an "LED TV" by some manufacturers and suppliers.
5. What is an LED display or/and LED panel?
An LED display is a flat panel display, which uses light-emitting diodes as a video display. An LED panel is a small display, or a component of a larger display. They are typically used outdoors in store signs and billboards, and in recent years have also become commonly used in destination signs on public transport vehicles or even as part of transparent glass area. LED panels are sometimes used as form of lighting, for the purpose of general illumination, task lighting, or even stage lighting rather than display.
6. What is a video wall controller?
A video wall controller does include a main board and a LIPS which control and power the LCD unit screen.
7. What is a video splitter?
A video splitter is a kind of video processor that can split one source video image into many images which are the same and then transmit and display the same images on each unit screen at the same time.
8. What is a matrix switcher?
A matrix switcher is a kind of sophisticated video processor equipment that can convert different channel videos, which come from different sources, into different channel videos and transmit them to the video wall or other equipments.
9. What is a multiplexer or color quad processor?
A multiplexer or color quad processor is a device that can combine different video from 4 /8/16 channels source (more channels are available) into one channel source, separate one unit screen into 4 /8/16 images and display 4 /8/16 images on one screen. You can see 4 /8/16 images displayed in 4 /8/16 windows on one screen.
10. What is a video converter?
A video converter is a kind of device that can convert different source video into different source video, for example, HDMI to DVI, DVI to HDMI , ect…
11. What is a transmitter?
A transmitter is a kind of device that used to keep the video signal unchanged in transmission when the transmission distance is too long to transmit through a specific length cable, such as, 10m HDMI cable. When the HDMI cable is longer than 10M, a HDMI transmitter will have to be used to protect the video signal from being changed during transmission.
12. What is a transceiver?
A transceiver is a pair of receiver and transmitter that are used to receive and transmit video or/and audio signals in fiber transmission and UTP cat5e transmission. Accordingly, there are mainly 2 kinds of such transceivers that have been widely used in long distance signal transmission. They are Fiber transceiver and UTP cat5e transceiver.